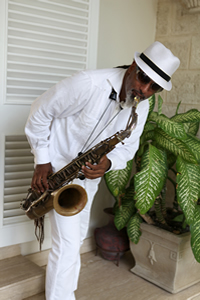 ARTURO TAPPIN BIO
Arturo is definitely the smoothest, saxiest horn man the Caribbean has to offer. His dynamic and spirited live performances have won him fans the world over. He made headway with his debut recording "Strictly Roots Jazz" and then immediately followed up with a stellar performance on his second album entitled, "Java", both licensed by Pioneer Records in Japan. For his cultural contributions to Jamaica and the Caribbean on the whole, Arturo recently received a nationally acclaimed Award of Excellence in the Arts from former Jamaican Prime Minister PJ Patterson.

Tappin has dazzled audiences at the Soho Jazz Festival, the Bob Marley Birthday Bash and Reggae Sunsplash, as well as headlining Jazz Festivals throughout the Caribbean. He has performed with the legendary Roberta Flack,Hard Bop Trumpeter Red Rodney,Grammy Award winning drummer Roy Haynes, Reggae Super Star Maxi Priest, R & B chart topper Anita Baker, Jamaican Jazz pianist and Guitarist Monty Alexander and Ernest Ranglin,South African Jazz Legend Hugh Masekela, Smooth Jazz crooner Will Downing and R & B singer Freddie Jackson. Besides touring Arturo has served as the Musical Director for Eddy Grant as well as recorded with Grammy recipients Ralph MacDonald, and the late great Luther Vandross.

Arturo has had the privilege of playing for two American Presidents.President Bill Clinton at the Governor General's residense in Barbados and recently at the Fifth Summitt of the Americas in Trinidad and Tobabago for President Barack Obama.He has also performed for Cuba's President Fidel Castro , Chilean President Michelle Bachelet and quite recently (at the 2011 Duke of Edinburgh Black Tie Dinner )Prince Edward, earl of Wessex and Viscount Severn.

It's no wonder his latest CD "INSIDE OUT" conjures up feelings of pleasure and intrigue. The album features ten original compositions, all of which exquisitely display a superb blend of mesmerizing melodies and deliciously deep penetrating grooves, encouraging the listener to hold on with anticipation. "Mia Amor", "Smell your Own Finger" and "Life" are just a few of the originals included on the album that demonstrate his natural musical dexterity. "INSIDE OUT" also includes brilliantly crafted covers of "Unfaithful" and "Tempted to Touch" originally recorded by fellow Barbadians Rihanna and Rupee, testimony of Arturo's reverence to his homeland.

When asked what his future plans are in music he simply responded "Listen, practice, play, record."


This BIO and Photo was reproduced from the Jamaica Jazz & Blues Media Press Kit
[
Back To Negril Travel Guide.com Home Page
]

•
Where To Stay
•
Restaurants
•
Shopping
•
Services
•
Recreation
•
Arts & Heritage
•
Calendar Of Events
•
Night Life
•
Travel Information
•
Photo Gallery
•
Jamaican Attractions
•
Jamaican Music Industry Directory
•
Home
•

•
About Us
•
Complimentary Listing
•
Contact Us
•
•
Our Privacy Policy
•
Disclaimer
•

The NegrilTravelGuide.com is Designed, Developed, Hosted, Marketed, and Maintained by:

Photographs by Barry J. Hough Sr. Photojournalist/Photographer
All Photographs taken with a Nikon D70, D100, D300, or Canon EOS Mark II
© Barry J. Hough Sr - BarryJHoughSr.com. All photos, graphics, text, HTML forms or other contents published in NegrilTravelGuide.com are the sole property of Barry J. Hough Sr - BarryJHoughSr.com and may not be reproduced, copied or utilized in any form without written permission. All Rights Reserved.